If you want to watch live TV channels, movies, TV shows, and series all under one app, then nVision IPTV is the best option. It comes with a complete package with all sorts of entertainment stuffed in it. Also, IPTVs are portable and accessible anywhere worldwide. nVision IPTV provides over 2000+ live TV channels in 4K quality. You will get access to adult channels, catch-ups, sports events, PPV, etc., based on the subscription plan It provides external player supports, M3U URL, EPG guide, etc. In this article, let's see how to sign up, install, and access nVision IPTV.
Highlights of nVision IPTV
You can use it on up to 4 devices simultaneously.
Supported on all available devices.
Stream video in SD, HD, UHD, and 4K quality.
Support 24/7/365 via online contact form.
Flexibility and separate subscription plans.
Why Use a VPN while Streaming IPTV
It is mandatory to use a VPN when accessing any kind of IPTV service on your device. It avoids your IP address being tracked and monitored online by your ISP or the trackers. VPN like NordVPN and ExpressVPN provides complete anonymity along with a fast and secure connection over the internet. With the VPN, your connection stays private, and you can unblock the location-specific titles while streaming IPTV.
How to Sign Up for nVision IPTV
[1] Go to the nVision IPTV (https://www.nvision.tv/billing/cart) from your web browser.
[2] Choose your plan category from the drop-down menu.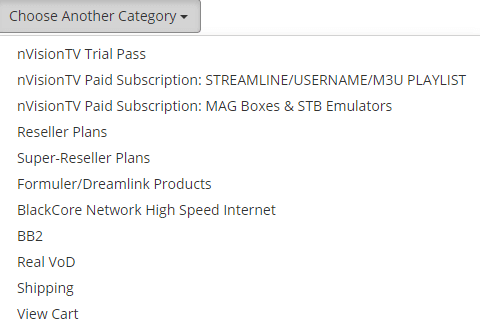 [3] Choose any plan from the list and click on Order now.
[4] On the configure page, choose the billing cycle (monthly, quarterly, half, or annually) and check the boxes like Terms & conditions, support understanding, and instant email after ordering.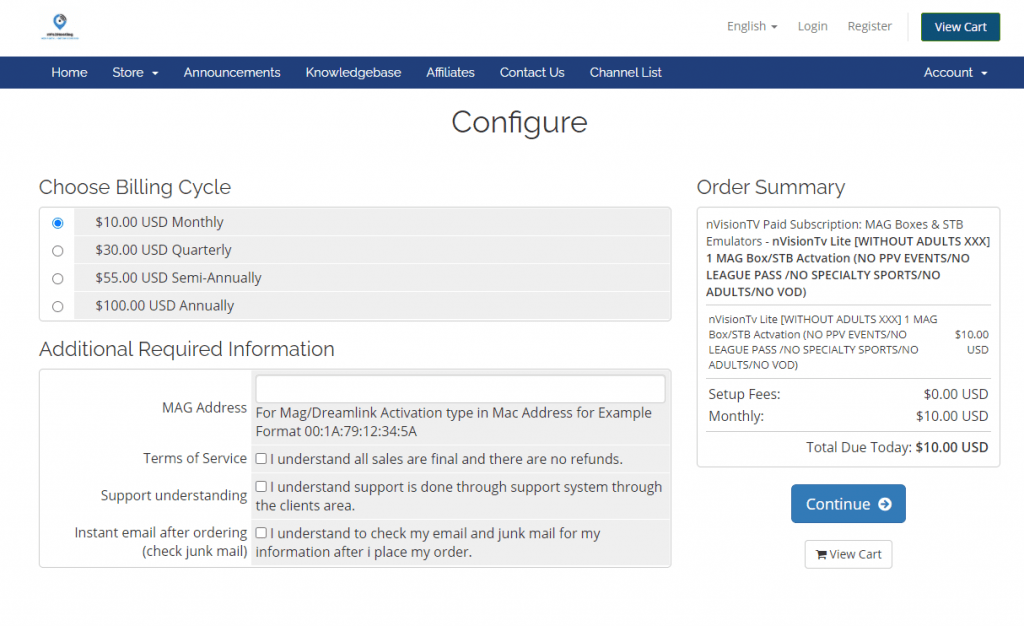 [5] Click on Continue to proceed further.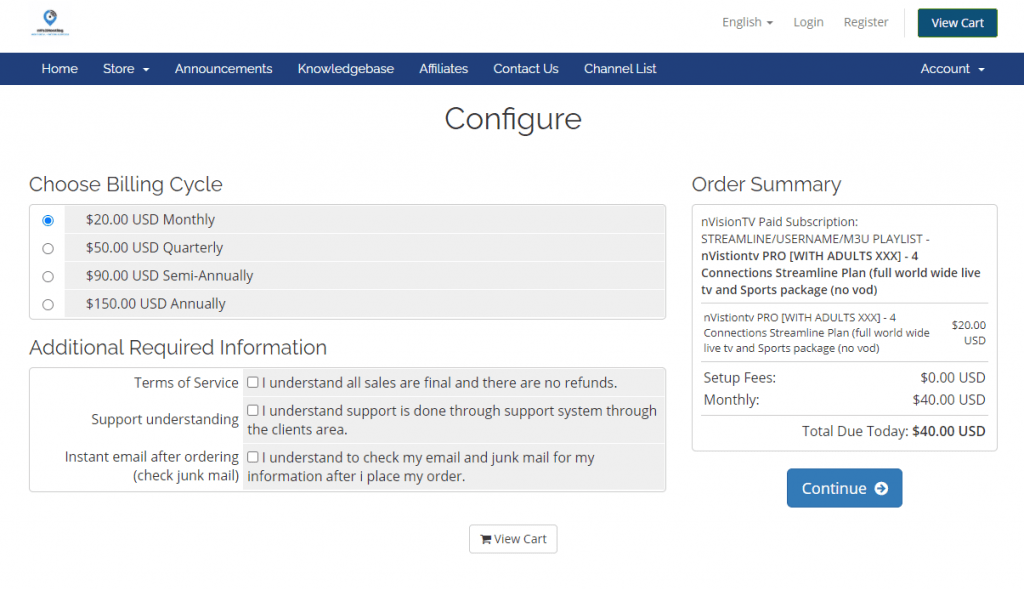 [6] Now enter the details asked in the required field, followed by the promotional code, if any.
[7] Click on Checkout to complete the payment and plan subscription.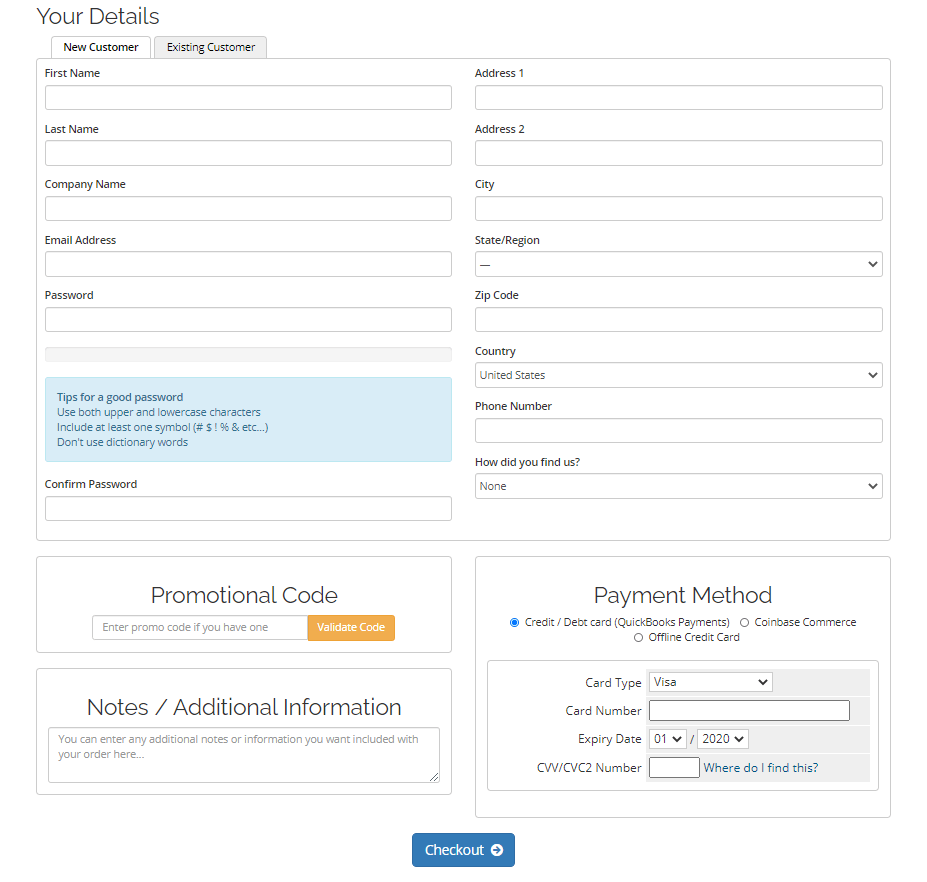 [8] Make your payment via any of the available methods.
[9] You will get an email with the app apk, M3U playlist, and login credentials.
How to Install nVision IPTV on Android Devices
Pre-Requisite: To install any apk file on Android, go to Settings >> Security >> Install Unknown Apps >> Ok.
[1] Download and install the nVision IPTV apk on your Android smartphone or tablet from any trusted source.
[2] Launch the app to proceed with login.
[3] If you have an activation code, enter the activation code and click on the Get Activated button.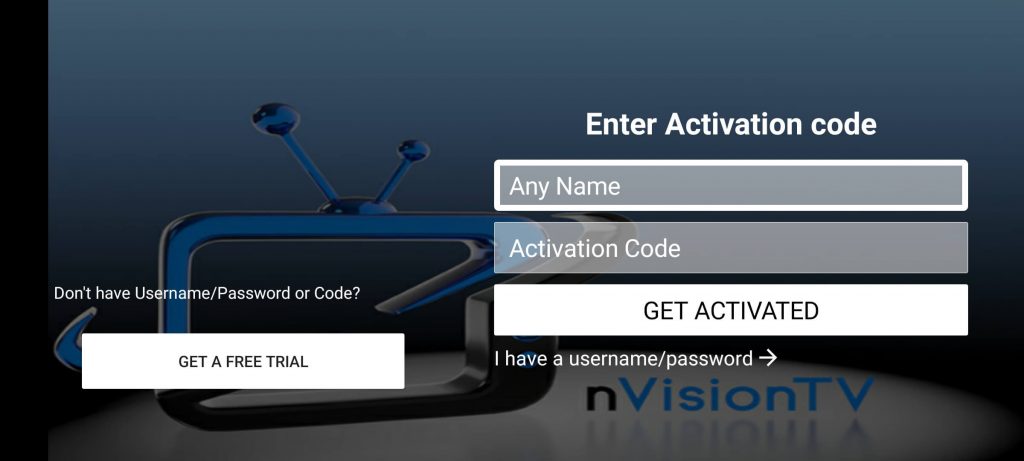 [4] If not, click on I have a username/password link below the Get Activated button.
[5] Now, enter your login credentials like any name, username, and password.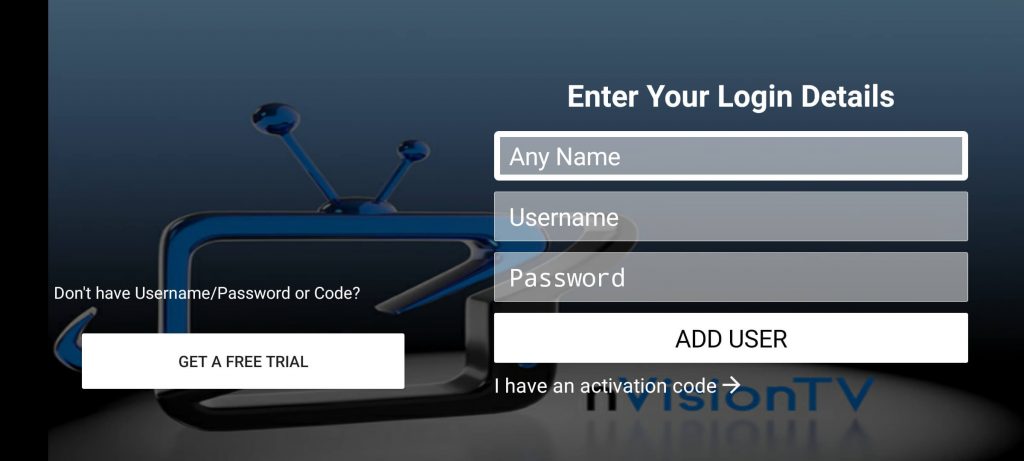 [6] Click on Add User to create your profile and start streaming.
How to Get nVision IPTV on iOS
With the VLC media player, you can stream nVision IPTV's M3U playlist on your iOS device.
[1] Install the VLC Media Player from the App Store on your iOS device.
[2] Click on the Network tab from the bottom panel.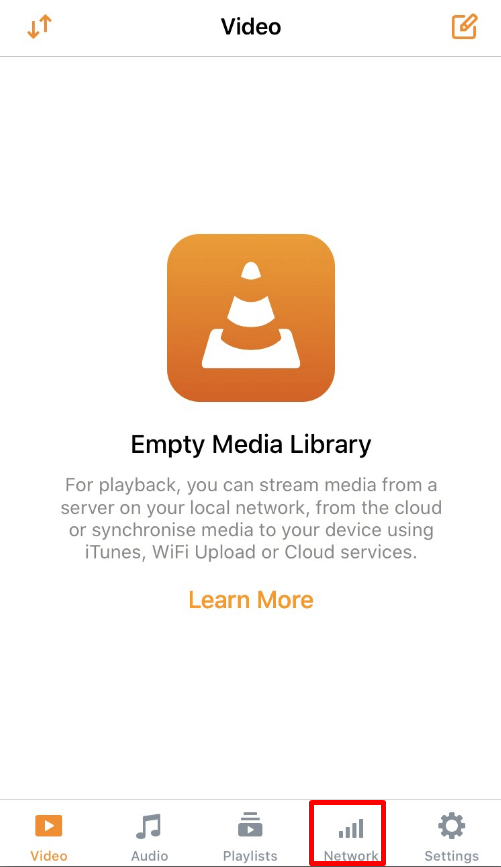 [3] Tap on Open Network Stream to play stream video without downloading.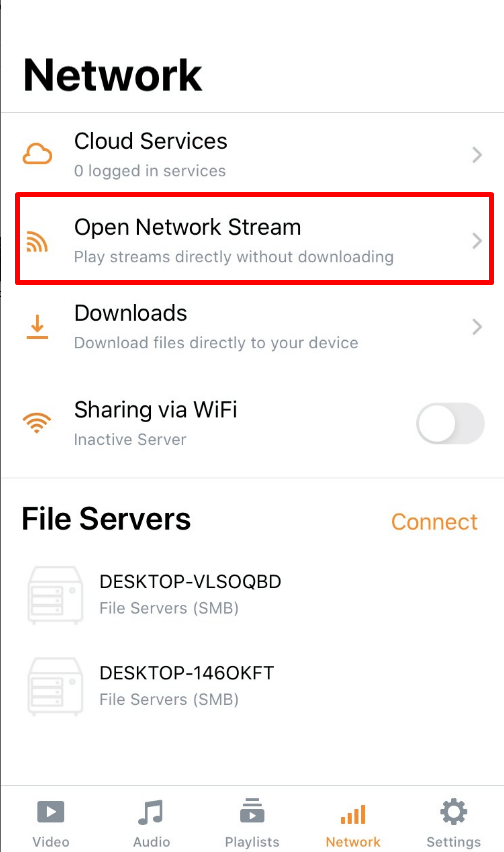 [4] Enter the M3U URL associated with the nVision IPTV on your iPhone or iPad and click the Open Network Stream button.
[5] Now, you can stream all the live TV on nVision TV on your iOS device.
Note: You can also use GSE Smart IPTV to stream nVision IPTV.
How to Stream nVision IPTV on a Web Browser
[1] Visit the nVision IPTV website (https://www.nvision.tv) from your browser.
[2] Click on WebTV player from the menu panel.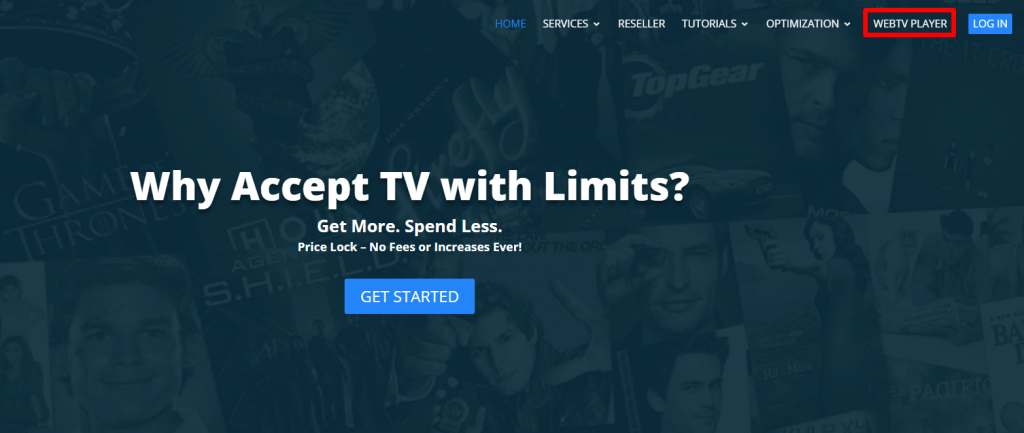 [3] Enter the username and password of nVision TV.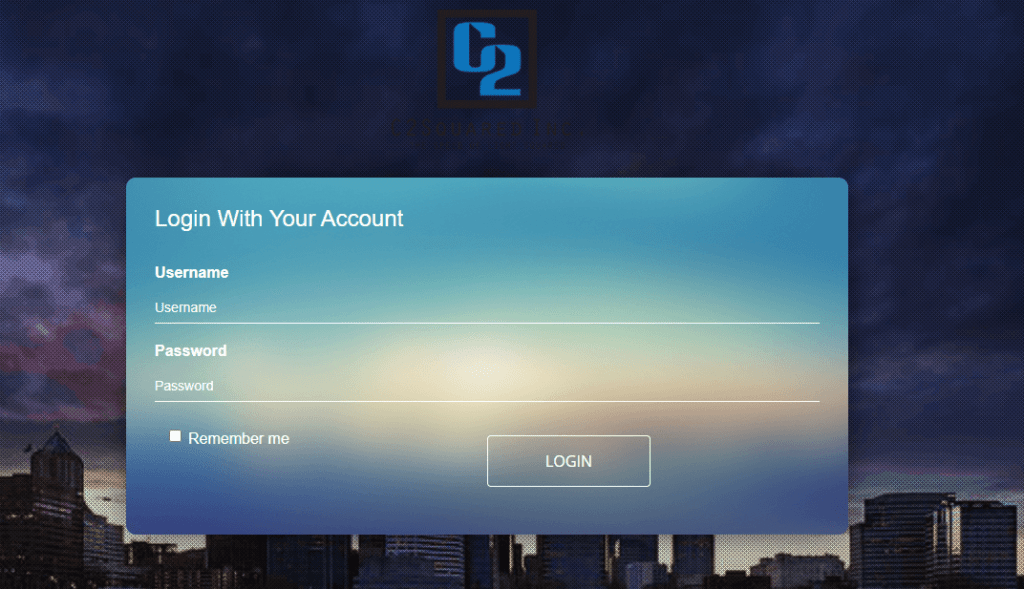 [4] Check the Remember me box to remember your login info for later login.
[5] Click on the Login button and start watching all the content on nVision IPTV.
You can use this method to stream the IPTV on Windows and Mac PCs. You can also use smartphones and streaming devices, but the video resolution may not fit the screen.
How to Get nVision IPTV on Firestick
[1] Click on the Search tile on your Fire TV menu bar under the Find menu.
[2] Search/say VLC for Fire with your Alexa voice remote.
[3] Click on the Download icon to download and install VLC for fire.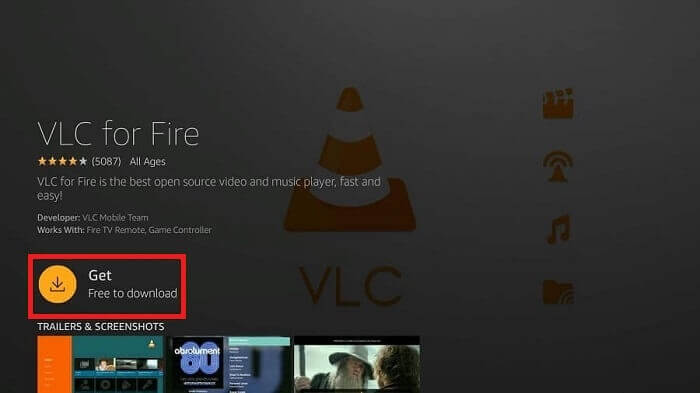 [4] After installation, click on Open to launch the app.
[5] Click on the Browsing tab from the left panel.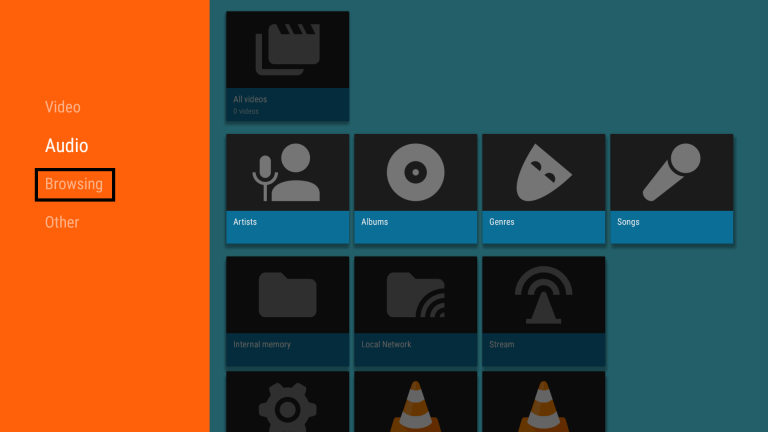 [6] Under the browsing section, choose Stream.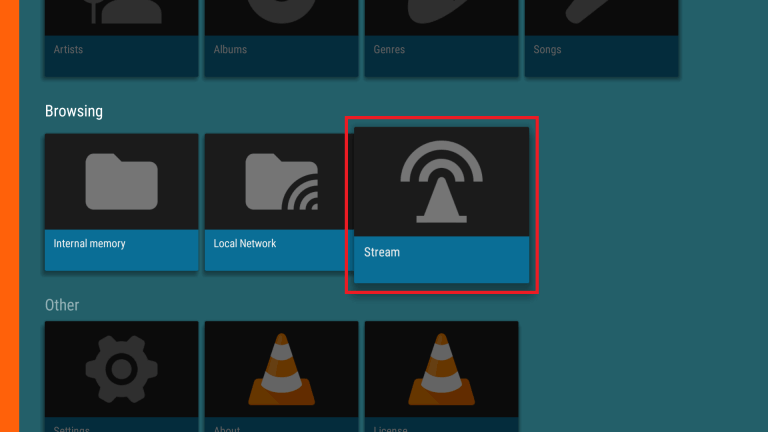 [7] Enter the M3U URL of your IPTV.
[8] Click on the Stream icon to start streaming all the content.
How to Get Trail on nVision IPTV
Using App
[1] Click on Get a free trial and enter the name, email ID, and password.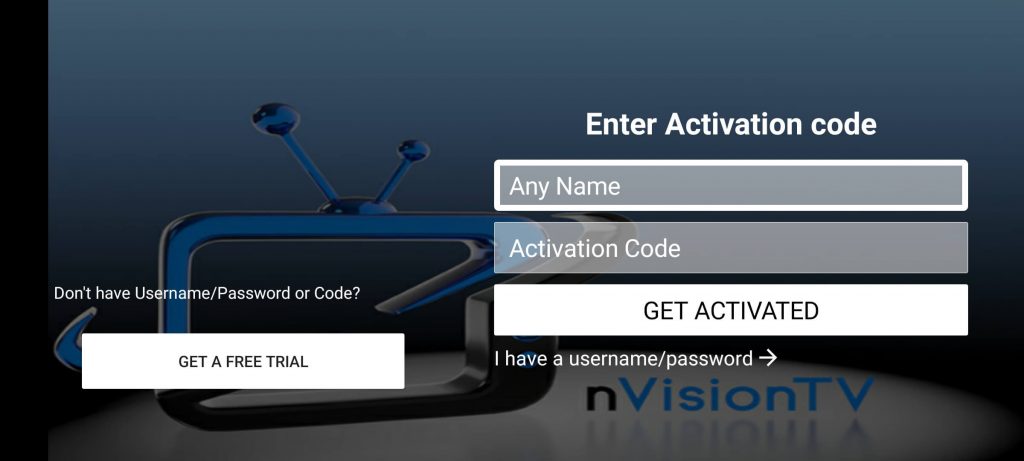 [2] Click on Sign up to get your free trial for 12hrs – 48 hrs.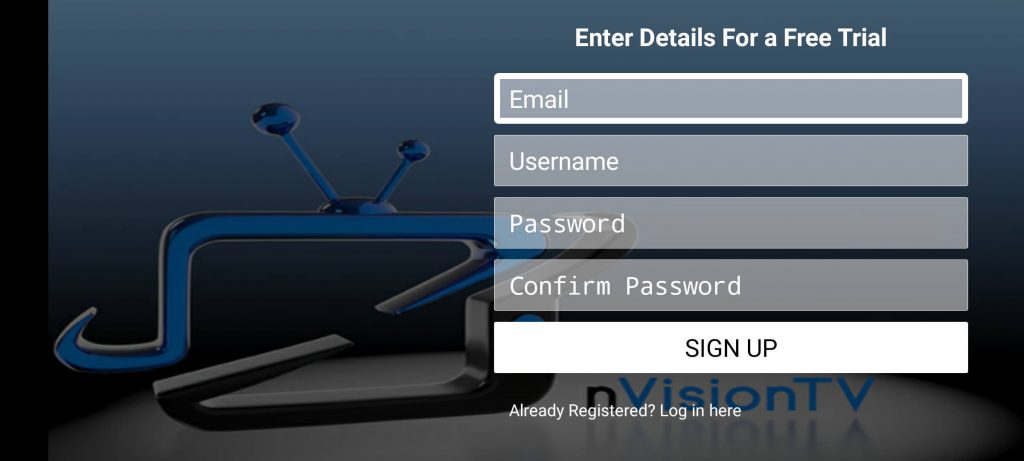 Web
[1] From the store, choose the Trial pass category.
[2] Select any trail pass plan like 12hrs ($1), 24hrs ($2), or 48 hrs ($3).
[3] Now do the signup process as usual to receive your trail pass mail.
nVision IPTV Products
The IPTV also has its media player embedded with its services like Dreamlink and Formuler. It also has a BB2 media player. All these products can be brought from the store directly, selecting the category.
Pricing
BB2 Media player – $249.95
Formular Z Alpha UHD Media Streamer – $109.99
Formuler Z+ neo UHD Media Streamer – $83.99
Formuler Z8 Pro UHD Media Streamer – $139.99
Dreamlink T3 UHD Media Streamer – $139.99
Customer Support
nVision provides customer support 24/7 over online form. So, if you get into any issues or got any queries, you can visit the nVision IPTV website to click on the Contact Us form. Fill in the necessary details along with your queries and click Submit.
Opinion
Now you can watch nVision IPTV by following the guides above. It is simple to access and avail on all commonly used devices. You can also avail the paid trial pack before you go for a subscription. You shall try out other IPTV providers like Panda IPTV and Xtreme HD IPTV.