IPTVs are replacing cable or satellite TV. It is the most affordable option to get entertained. The best part is that you can stream IPTV services on any device as long as you can connect those devices to an internet network. The devices include your mobile phones, tablets, Firestick, Apple TV, Roku, Smart TV, Computer, etc. You will mostly need an IPTV service provider login credentials and IPTV service provider or an IPTV player to start streaming. It remains common for all devices and all IPTV providers. Let us see more about How to Stream IPTV in this article.
How to Stream IPTV
The following steps will help you stream IPTV on any device. But here, we have considered a smart TV in which most of the TV channel streamings will take place. To stream on a smart TV, you will need an Android TV Box.
1. Get an Android TV Box
There are 1000s of Android TV Boxes on the market. So make sure to get the one that is compatible with your TV. It is considered the heart or nucleus of the IPTV. It is better if you connect it to your TV and the WiFi router. Here we took one of the Android TV Boxes, the Xiaomi Mi Box.
Xiaomi Mi Box is one of the best Android TV Box available at $59.99. It is completely an Android-based streaming device. It has got 2 GB RAM and internal storage of 8 GB ROM. You can enjoy your IPTV with 1080p, 4K, Dolby Vision, HDR10, and HDR10+. It even comes with the Google Assistant and Chromecast in-built features.
Set Up Xiaomi MI Box with your TV
#1 Plug your MI Box into your Power Outlet.
#2 Also, connect your MI Box to your TV with the provided HDMI cable.
#3 Turn on the device, and the Android Marshmallow screen appears.
#4 Then select your preferred language.
#5 Now, select Yes if you have an Android Phone.
#6 Then connect your MI Box to the WiFi network.
#7 Accept Google's terms and conditions.
Now you have completed the setup.
2. Download an IPTV
Once you set up your Android TV Box, the next thing you need to do is to setup an IPTV app. Most IPTV doesn't have apps, so you might want an IPTV Player to stream the content you want through M3U URL. If your IPTV Service Provider offers an app, then you can stream directly with the app by downloading it on your TV. Some of the best apps for streaming IPTV are as follows.
GSE Smart IPTV
It is one of the most popular apps for your iOS devices. It has an in-built player, and it supports most of the video formats with EPG Timeline, web interface, parental control features, etc. GSE Smart IPTV supports local M3U Playlists and remote playlists. One can set their favorite playlists and supports most of the languages.
IPTV Smarters Pro
IPTV Smarters Pro is the next best option to stream the IPTV live channels and VOD. It is a subscription-based IPTV Player. It is one of the highly efficient, powerful players with an intuitive interface. IPTV Smarters Pro supports external EPG, multi-users support, parent control features, Auto-update and TV catch-up streaming, etc. Android users shall get it as Smarters Players Lite, and it is available as IPTV Smarters Pro in Apple App Store.
TiviMate
The next on the list is TiviMate. With TiviMate, all you need is an M3U URL link to stream the desired IPTV. You can add any playlist with any number of channels. There is also this Catch-up option to continue watching where you left off. It comes with a modern interface, supports multiple playlists, adds favorite channels, etc.
Related: You can find more best IPTV players for Android.
3. Get an IPTV Subscription
Now you need to get an IPTV subscription. Some IPTVs are completely free to use. So you will not need to buy a subscription. In such cases, you will need the M3U URL Link for streaming. For instance, here we shall discuss buying a subscription to Xtreme HD IPTV. Almost all IPTV Service providers' subscription processes will be the same.
#1 Visit the official site of the e IPTV provider you want. Here, in this case, Xtreme HD IPTV.
#2 Go to the Pricing section or Subscription section or Products.
#3 Now, select the subscription you want and click on the Buy Now button or Get it Now or subscribe button.
#4 On the next screen, click on the Continue button after reviewing your purchase.
#5 Enter your login details or billing details.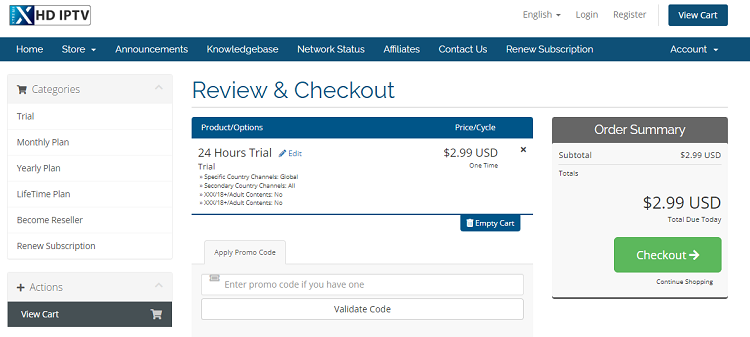 #6 Now complete the payment to get the IPTV login credentials and M3U URL.
In the case of free IPTV, you can get the link on their website or app.
4. Possible Ways to Stream IPTV
Based on the IPTV you have chosen, the procedure to stream its titles differs.
4.1 Streaming IPTV Directly
As said earlier, various IPTV service providers themselves provide apps for streaming sites. So, if your IPTV Service provider provides an app for your Android Box, then you can very well go ahead and stream with that app directly.
#1 Install the desired IPTV app on your Android TV Box from the Play Store. If the app isn't available, you can always install the Android APK by sideloading using a USB Drive. For instance, here, we considered Prime Streams IPTV.
#2 You can visit the download link from a web browser on your Android TV Box. (http://primestreamstv.com/tv.apk)
#3 Now, install the apk file on your TV Box.
#4 Then, click Open to launch the app.
#5 On the welcome screen, enter your username and password. If your service is free, you can directly start streaming.
#6 With that, you can start streaming live TV channels.
4.2 Set up IPTV Player App to Start Streaming
Once everything is set, all you need is to set up the IPTV with the player on your streaming device. Here let us discuss how to set up an IPTV with the GSE Smart IPTV, for instance. Depending on the player, the terms may vary, but the procedure and parameters remain the same.
#1 Install the GSE Smart IPTV on your Android TV Box from the Play Store.
#2 Now, launch the app and provide the necessary permissions and access by clicking Allow.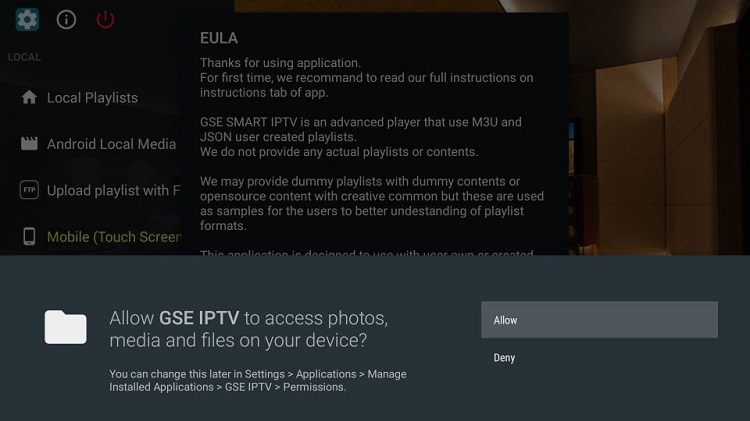 #3 Select Remote Playlists > Remote M3U Sample.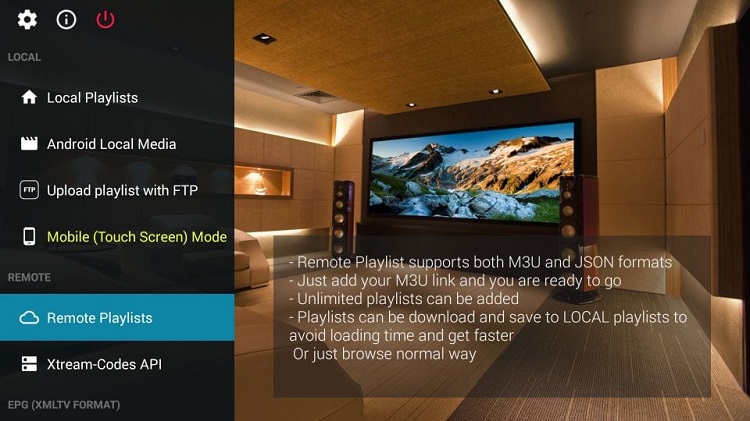 #4 Then choose Add M3U URL.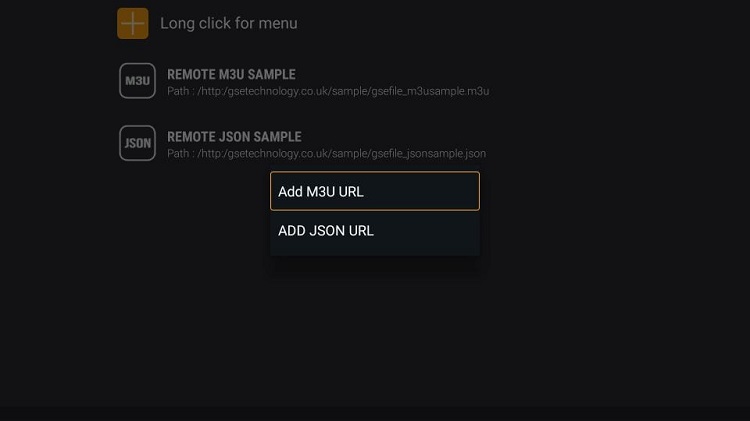 #5 Enter the M3U URL, Username, and Password.
#6 Click on the Add button.
Some IPTV may provide XTREAM Codes to log in. Choose Xtream Code API and provide the necessary details to Add. You can add an EPG guide choose EPG Program Guide > + icon > Add Local EPG Source > Add remote EPG Source. You need to provide the EPG link to start streaming.
5. Get a VPN
Finally, it is important to get a VPN while streaming IPTV. If you are wondering, "Is streaming with IPTV illegal?" then, No. It is not illegal. But you might get some copyrighted content while streaming. In such a case, it is illegal. So, you might want to get a VPN while streaming with IPTV. It even prevents you from throttling. A VPN will hide your IP address, making it hard for others to track you. With a VPN, you could easily change your location to somewhere else and stream even geo-restricted content. Few suggested VPNs would be:
ExpressVPN
CyberGhost
IPVanish
Private VPN
Proton VPN
Nord VPN
Norton
SurfShark
AtlasVPN
Opinion
And this is how you can stream IPTV. If you want to stream IPTV on multiple devices, you should refer to the setup guide of the IPTV service provider you got. Each and every IPTV will have a different setup procedure, and not every IPTV support every player. So make sure to know everything before you go for streaming.
Frequently Asked Questions
How to watch IPTV on iPhone?
There are few IPTV apps available for iPhone or you can get IPTV providers and stream your desired content using IPTV players.
How to watch IPTV on Roku?
You can screen mirror any titles from the IPTV apps on your smartphone to Roku.
Does Roku have an IPTV app?
No. There are no IPTV apps available on the Roku Channel Store.