Prime IPTV offers over 5000+ live channels, movies, TV shows, VOD, and many more. Also, it provides a stable and quality service on all available devices. It is the best option to replace your cable or satellite connection. Prime IPTV TV channels in different languages and you can stream 4k quality. The greatest advantage of Prime IPTV is it requires only less bandwidth. In this article, let's see how to install and access Prime IPTV on the available devices.
Key Benefits of Prime IPTV
You can pause or rewind any live TV.
It includes anti-freze technology.
Supports live HD channel rewind for up to 7 days.
It provides free updates to the users.
You will get one year of hardware warranty.
Over 5000+ live channels, VOD, movies, and TV shows.
Stream videos up to 4K Ultra HD quality.
Available on all commonly used devices and platforms.
No contract and cancellation fees.
It offers a variety of plans to the users.
The IPTV provides stable and quality streaming.
Prime IPTV Subscription Plans
You can choose any of the four plans to stream Prime IPTV.
1 Month: $10
3 Months: $30
6 Months: $60
1 Year: $100
Why is VPN essential to access IPTV?
Always remember to use a VPN whenever you are gonna access any of the IPTV services. This helps to hide IP addresses and geolocation. By using powerful VPNs like NordVPN and CyberGhost VPN, you can browse the internet with complete anonymity.
How to Sign Up for Prime IPTV
[1] Visit the Prime IPTV website, www.primeiptvpro.com, from your browser.
[2] Scroll down to get the Prime IPTV plans.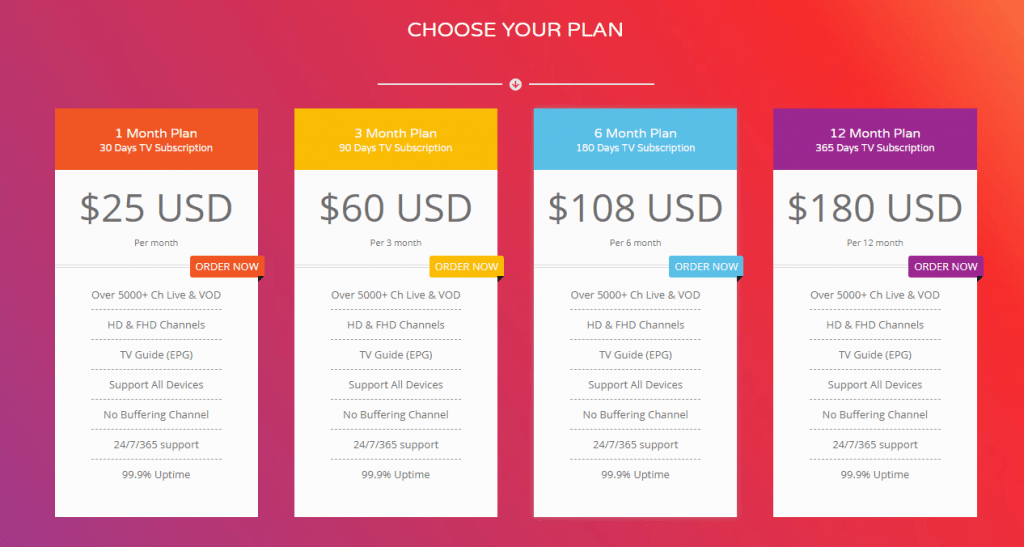 [3] Click on Order Now to buy the plan.
[4] Enter the details asked for the purchase like mail ID, address, and more.
[5] If you want, you can also order the Prime IPTV setup box along with the subscription.
[6] Complete the payment to receive your login credentials and setup box.
Features of Prime IPTV Set up Box
Chipset – Allwinner H6
Processing Core – Quad Core and Cortex A53 CPU
Operating System – Android version 9.0 (Pie)
RAM Size – 4 GB
Storage capacity – 32 GB eMMC
Extended Capacity – Up to 64GB Max
Display – LED Display
Bluetooth – Version 5.1
WiFi – 802.11 a/b/g/n/ac,2.4G /5G dual-band Wifi
Power Supply – Charge Adapter
Interface – DC Power Port,HDMI,LAN,TF card,USB2.0,USB3.0,Spdif
Language support – Multi-language
HDMI – Version 2.1
Audio support – 5.1 Surround sound output
Video Support – Up to 4K Ultra HD quality
Power Consumption – 6W
Supported media – All commonly used Decoder, video, audio, and photo format
What's in the Box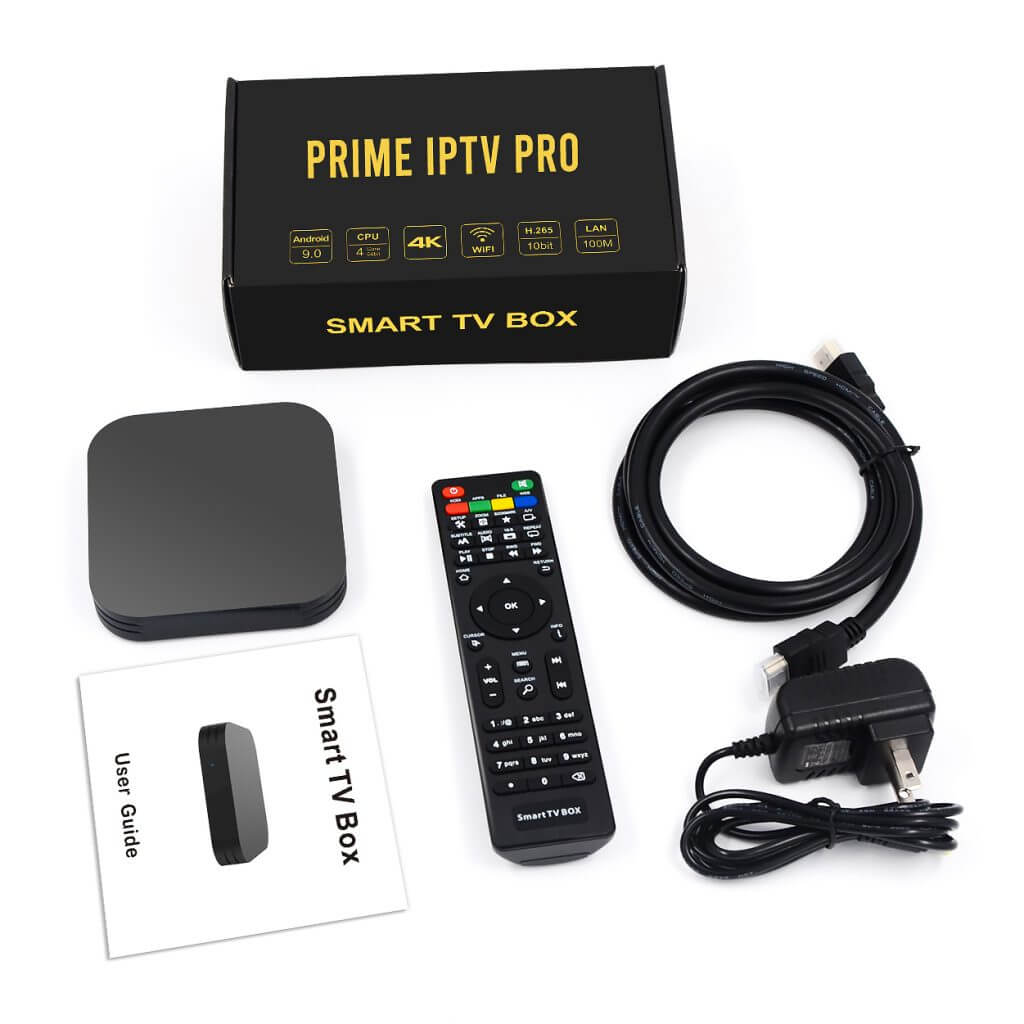 Prime IPTV Setup Box
Remote control for Setup box
HDMI Cable
Power Adaptor
User guide
Supported Devices
You can connect Prime IPTV on the following devices.
Amazon Fire Stick
Android TV
Any smart TV that has HDMI port
How to Connect Prime IPTV Set-top Box to TV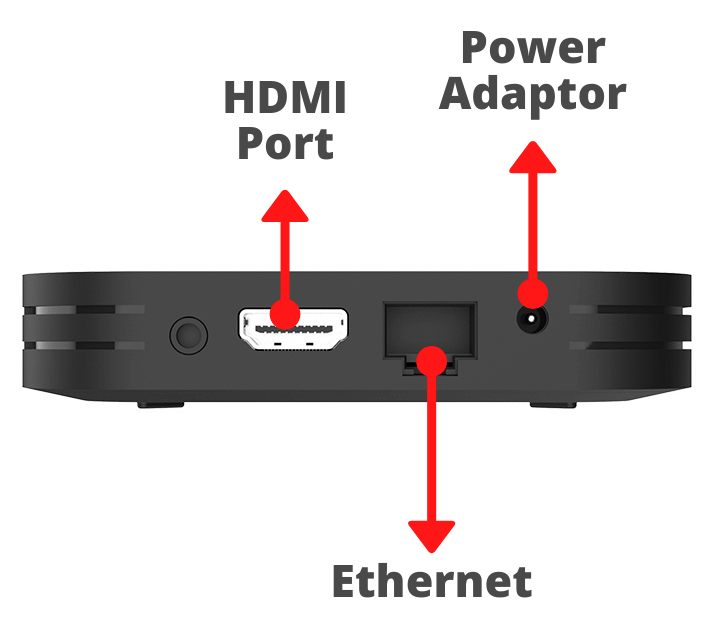 [1] Connect the HDMI port from the Set-top box to the TV.
[2] Then connect the Ethernet connection for the internet.
[3] Now plug the power adaptor into the wall socket and pin it to the Set-top box.
[4] Power on the Adaptor and start watching all content on your smart TV.
How to Get Free Trial for Prime IPTV
[1] From your browser, go to Prime IPTV's official site.
[2] Navigate to Free trial and click on it.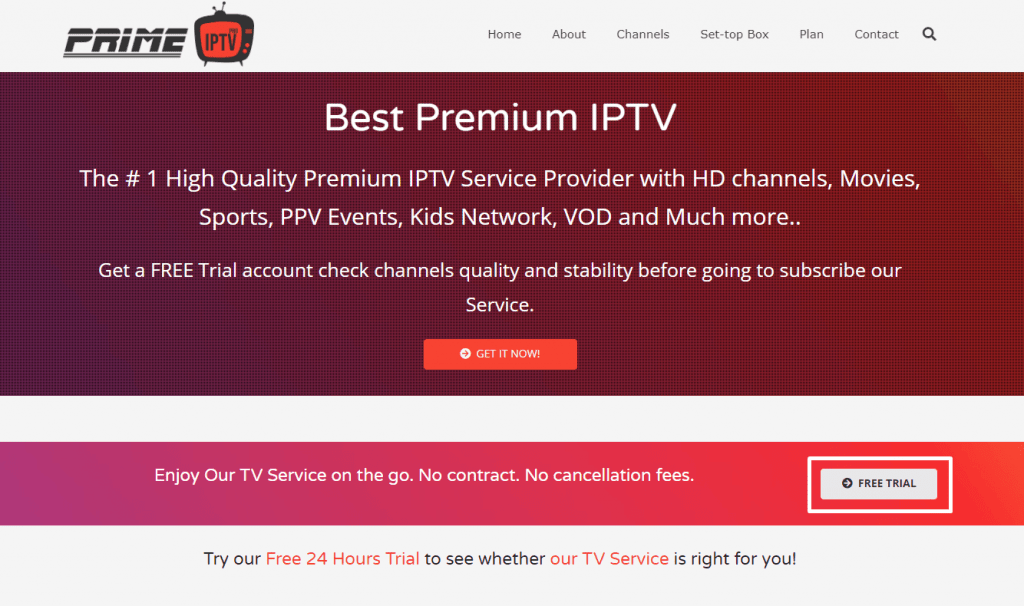 [3] You will be directed to the contact page.
[4] Now enter your name, email ID, and phone in the respective field.
[5] In the message field, enter 24 Hours Free Trial and complete the verification process.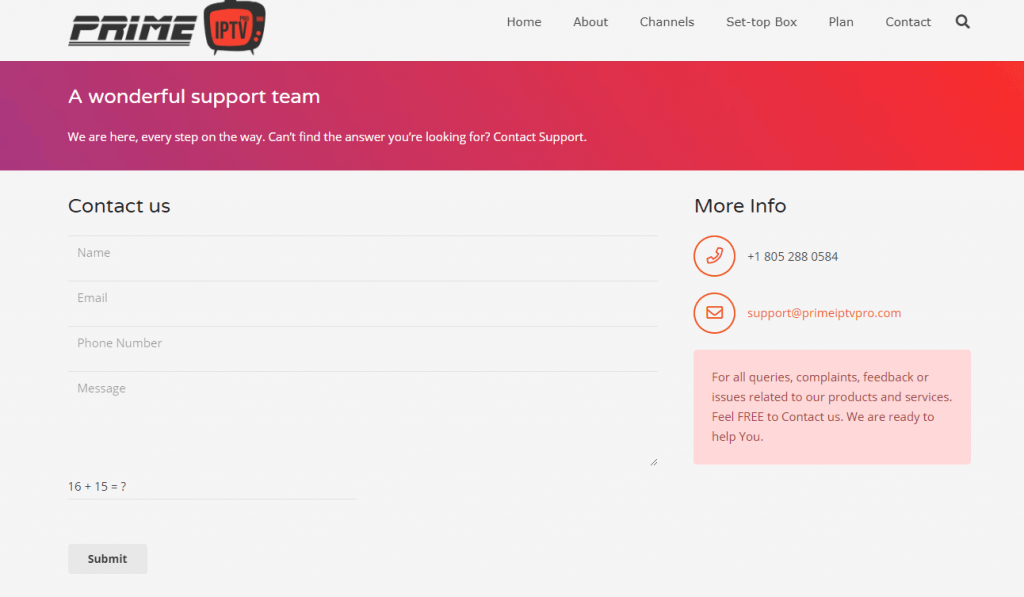 [6] Click on the Submit button. You will receive your free trial credentials after verification is done.
Note: Free trial is available only for first-time users.
Customer Support
Prime IPTV offers two ways of customer support namely, WhatsApp and Email support. You can mail them at support@primeiptvpro.com. If you want WhatsApp support, you can contact them at +1 805 288 0584. Live chat is missing in the IPTV service.
Opinion
Get the Prime IPTV subscription and access 5000+ live TV channels on your device. If you are a smart TV user, buy the set-top box to watch all the IPTV contents. If you have any difficulties or doubts, let us know in the comments section below. For more IPTV set-top box, get the Guru IPTV and Great IPTV.